50149B: SharePoint 2007 Operations (MS Certification)
» back to Search Results
This 5 day deep-dive will guide individuals through the process of architecting and setting up SharePoint 2007 applications and customizations from an Operations viewpoint.
Course Outline




This 5 day deep-dive will guide individuals through the process of architecting and setting up SharePoint 2007 applications and customizations from an Operations viewpoint.




Audience

This course is intended for individuals who access information on a Windows SharePoint team site or SharePoint site owners who are responsible for creating and managing a team website.  This includes managers, developers, designers, and every day knowledge workers, anyone that uses SharePoint sites and lists on an everyday basis.




Course Completion Skills:

Every aspect of managing a SharePoint 2007 Server farm
Integration with applications such as IRM, ForeFront, and Performance Point
The many ways to back up and restore SharePoint environments

Course Outline Module 1 Overview Lessons What Is SharePoint? Why SharePoint 2007? SharePoint 2007 Benefits

Labs

Lab : There are no labs in this module

Module 2 Installing Lessons Installing SharePoint SharePoint Farms

Labs

Lab : Installing
Install WSS
Install MOSS
Detach/Attach to SharePoint Farm

Module 3 SharePoint Architecture This module contains only labs.

Labs

Lab : Site Definitions
Create One of Each WSS/MOSS Site Definition
Lab : SharePoint Architecture 1
Explore a SharePoint config file
Lab : SharePoint Architecture 2
Learn Content Database structure
Use SQL Profiler to reverse engineer the web front end and stsadm
Lab : SharePoint Architecture 3
Create a Customized Page
Analyze a Customized Page
Lab : 12 Hive
Explore the 12 Hive

Module 4 StsAdm Lessons Overview Commands Extending

Labs

Lab : Stsadm
Use StsAdm command line tool
Lab : Extend Stsadm
Review the stsadmcommands xml file
Extend StsAdm

Module 5 SharePoint Services Lessons Document Conversions Launcher Document Conversions Load Balancer Excel Calculation Services Officer SharePoint Server Search Windows SharePoint Services Search Windows SharePoint Services Web Application

Labs

Lab : SharePoint Services
Explore the SharePoint Services

Module 6 PowerShell Lessons Commandlets PowerShell variables Using With SharePoint

Labs

Lab : Install PowerShell
PowerShell Basics – Command Lets
Create An Object
Static Properties
Lab : PowerShell With SharePoint
Load SharePoint Dll into PowerShell
Set PowerShell Execution Policy
Enumerate Webs
Create a site with PowerShell
Create/Update an item with PowerShell
Backup SharePoint with PowerShell

Module 7 General Operations Tasks Lessons Email Settings Migrating File Shares Master Site Directory Alternate Access Mappings External Service Connections Language Packs Features & Solutions

Labs

Lab : Email Settings
Configure the Outgoing Email Settings
Load balance Email Load
Configure the Incoming Email Settings
Lab : Distribution Groups
Create Active Directory Distribution Groups
Lab : Migration File Shares
Migrate a File Share
Blocked File Types
NTFS Permissions
Lab : Master Site Directory
Setup the Master Site Directory
Lab : Alternate Access Mappings
Configure Alternate Access Mappings
Test Alternate Access Mappings
Lab : External Service Connections
Records Center
Document Conversion
Lab : Features and Solutions
Features
Solutions

Module 8 Information Rights Management Lessons Information Rights Management SharePoint IRM

Labs

Lab : Information Rights Management
Install Information Rights Management (IRM)
Configure IRM
Use IRM

Module 9 AntiVirus Lessons Microsoft ForeFront ForeFront for SharePoint Installing Configuring SharePoint Configuring ForeFront

Labs

Lab : Forefront
Install Microsoft Forefront
Configure Microsoft ForeFront

Module 10 Information Management Policy Lessons There are only labs in this module.

Labs

Lab : Information Management Policy
Create a basic policy (Manual)
Use a policy

Module 11 Single Sign On Lessons Setup Configuring Using Applications Scenarios

Labs

Lab : Single Sign On
Learn how to Configure Single Sign On
Program web parts to use Single Sign On

Module 12 Logging Settings Lessons There is only a lab in this module.

Labs

Lab : Logging Settings
Learn to Debug SharePoint via Log Files

Module 13 Usage Analysis Processing Lessons Configuring Architecture Reports Troubleshooting Custom Log Processing

Labs

Lab : Usage Analysis Processing
Enable Usage Analysis Processing (UAP)
Use UAP

Module 14 Content Deployment Lessons There is only a lab in this module.

Labs

Lab : Content Deployment
Setup Content Deployment Path and Jobs
Quick Deployment
Debug Content Deployment

Module 15 Back Up and Restore Lessons Backup Techniques Disaster Recover Techniques Restore Techniques

Labs

Lab : Backup Central Administration
Use Central Administration to Back up and Restore (Farm)
Lab : Back up SQL Server
Use SQL Server to Back up SharePoint
Lab : Backup Stsadm
Use Stsadm to back up and restore a Farm
Use Stsadm to export a site collection
Use Stsadm to export a single site
Lab : Back up SiteList Template
Create a List Template
Create a Site Template
Create a Site from the new Site Template
Create a List from the new List Template
Lab : Back up SharePoint Designer
SharePoint Designer Backup (Web Package)
SharePoint Designer Backup (Content Migration)
SharePoint Designer Backup (Site Template)

Module 16 Timer Jobs Lessons Timer Service Timer Job SPJobDefinition Class WSS Timer Jobs MOSS Timer Jobs

Labs

Lab : TimerJobs
Explore SharePoint Timer Jobs
Disable a job
Disable the Timer Service

Module 17 Shared Services Provider Lessons Shared Services Overview Shared Services Components Shared Services Features Life with and without SSP Installing

Labs

Lab : Shared Services Provider
Create an Shared Service Provider
Configure multiple SSPs
Configure global "My Sites"

Module 18 Application Security Lessons SharePoint Security Custom Authentication Code Access Security Securing Communications

Labs

Lab : Application Security
Application Pools
Web Application Security
Site\List\Item level Security
SSL Security
Lab : Custom Authentication
Change the default Authentication Method of SharePoint to use a custom Membership Provider (ASP.NET 2.0)

Module 19 InfoPath Services Lessons InfoPath 2007 InfoPath and Windows Workflow InfoPath Forms Services Best Practices

Labs

Lab : InfoPath Services
Review MOSS Forms
Publish/Upload a Form to Forms Library
Verify/Upload/Activate a Form with IFS

Module 20 Business Data Catalog Lessons Business Data Catalog Overview

Labs

Utilize BDC web parts
Utilize Filter web parts
Lab : BDC Application Definition Files
Review BDC Schema
Create a BDC File (manually)
Create a BDC File (Code Gen)
Lab : BDC Permissions
DataSource Permission Errors
Application Permission Errors
Entity Permission Errors
Lab : BDC Authentication
Modify BCD to Use Database Credentials
Modify BDC to Use Single Sign On
Custom Single Sign On Solution
Lab : BDC Profiles
Search and BDC Integration
BDC Entity Profile

Module 21 Search Lessons Search Overview Performing Searches Tuning Search Extending Search

Labs

Lab : Search
Create Content Source
Create Crawl Schedules
Crawl All Scopes
Create Crawl Rule
Create Search Scopes
Add a File Type
Set Default Access Account
Query Crawl Logs
Lab : Tuning Search
Relevance
Keyword and Best Bets
Thesaurus
Noise Words
Lab : Customizing Search
Customize Search Results

Module 22 Excel Services Lessons Excel Services Trusted Locations Shared Data Connections User Defined Functions Excel Services Web Parts Excel Services Object Model/Web Service

Labs

Lab : Excel Services
Learn to use Excel Services
Create/Publish to Excel Services
Configure Excel Services
Shared Data Connections
Single Sign On Data Connections

Module 23 User Profiles My Sites Lessons User Profile Overview User Profile Settings My Sites

Labs

Lab : User Profiles
Configure User Profiles (Active Directory)
Configure Import Connections
Configure Profile Properties
Lab : My Sites
Create your My Site
Your Profile
Colleagues
Colleagues - Tracking Changes
Explore Memberships
Explore In Common With
Documents
Configuring My Calendar Web Part
RSS Viewer
Personal vs Shared Views
My Links

Module 24 Performance Optimization Lessons Capacity Planning Performance Optimization Techniques

Labs

Lab : Performance Optimization
Database Tuning (Recovery Mode)
Database Tuning (TempDB)
Database Tuning (Indexes)
Warm-up Scripts and Application Pool Timeout




Prerequisites & Certificates

Pre-Requisites

Experience managing windows server environments Understanding of database and web application architecture fundamentals

Certificates offered

MS Certification




Cancellation Policy

ctc TrainCanada - We Never Cancel*:
We are unique in the corporate training field in that we do not cancel desktop applications courses due to low enrollment. When there are less than 3 students, ctc TrainCanada will personalize the class (students then receive more time with the instructor to address their individual needs allowing the student to complete the full course in less time) or connect the student remotely to a class at one of our other branches via TrainLive remote classroom instruction. *Microsoft Certified Courses and other technical courses require a minimum enrollment of three students. Business Skills courses require multiple students in order to run due to the interactive nature of the training. Selected Desktop Applications courses may require a minimum enrollment of two students to run. ctc TrainCanada® reserves the right to deliver Microsoft Certified and other technical courses via TrainLive remote classroom instruction in order to guarantee the course to run.

ctc TrainCanada Cancellation policy:
You may cancel or reschedule this registration in writing with no penalty with a minimum of 10 business days' notice prior to the first day of the course. Full payment is required if you cancel or reschedule this registration within 10 business days prior to the first day of the course. However, substitutions are welcome. If you do need to cancel or reschedule a publicly scheduled course within the 10 day non-cancellation period (not a client dedicated course), payment is to be made and a training voucher for a public course will be issued to you. This allows you to attend a future date for the same course at no charge (subject to availability).
No-shows will not be issued a training voucher.

Complimentary Service: We offer all our students coffee, tea, juice or pop, muffins or pastries in the morning and cookies baked in our own oven each afternoon.


Map & Reviews




Reviews

This course has not yet been rated by one of our members.

If you have taken a course through this vendor please log into your account and leave feedback for this vendor. You will be helping ensure our members get directed to the best training facilities.

Here are some reviews of the training vendor.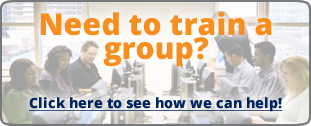 This course currently does not have any dates scheduled. Please call
1-877-313-8881

to enquire about future dates or scheduling a private, in house course for your team.
This page has been viewed 798 times.