50057A: Developing Websites with HTML 4.0 (MS Certification)
» back to Search Results
This course focuses on creating highly effective and interactive Web pages as well as on the essential building blocks of an HTML document.
Course Outline




This Developing Web sites with HTML 4.0 course is designed for developers who want to get the most out of the HTML markup language. This course focuses on creating highly effective and interactive Web pages as well as on the essential building blocks of an HTML document.

Learn about the URL structure

Understand how to create a hypertext link

Learn how to create image maps


Audience

Web developers who need to implement Web-based solutions and work in a HTML document environment

Webmasters who want working knowledge of HTML to create and maintain Web sites.

Project Managers who must have a basic understanding of what is possible to accomplish with HTML and related technologies.


Course Completion Skills:

Be familiar with the building blocks of the HTML 4.0 markup language.
Understand how to design and layout Web pages.
Be able to create tables and frames.
Understand how to develop Web pages to get user information.
Have a working knowledge of Cascading Style Sheets and the formatting power they can bring to your Web pages.
Be familiar with the scripting languages JavaScript and VBScript and how to use them to create highly interactive Web pages.
Understand how to implement some of the Dynamic HTML (DHTML) features to generate very dynamic, interactive, and entertaining Web sites.

Module 1 Introduction to HTML This module includes the World Wide Web, understanding HTML and Internet terminology, the building blocks of a Web page and creating a simple page using HTML. Lessons The Internet The History of HTML The Building Blocks of a Web Page A simple HTML Document

Labs

Lab 1: Introduction to HTML
Overview
Creating a Simple HTML Document
Adding META Tags
Testing Your Web Page

After Completing This Goal, Students will be Able To

Create a simple HTML document
Add META Tags
Test a Web page

Module 2 Formatting Text This module explains how to properly format the text on a Web page, understand how HTML deals with spacing and line break and difference between ordered and unordered lists. Lessons Modifying the appearance of Text Text Alignment Creating Lists

Labs

Lab 2: Formatting text
Defining Layouts with Text
Working with Fonts
Adding a Bullet List

After Completing This Goal, Students will be Able To

Understand the tags necessary to properly format the text on a Web page.
Create ordered and unordered lists

Module 3 Graphics, Color and Animation This module explains how to create and add images to Web pages, work with colors in HTML, understand layout principles with images, support old browsers and use sound. Lessons Working with Images Using Images with HTML Custom Backgrounds Animation Adding Sound

Labs

Lab 3: Graphics, Color and Animation
Overview
Working with Images
Adding a background
Using Sound

After Completing This Goal, Students will be Able To

Create and add images to Web pages
Work with colors in HTML
Understand layout principles with images
Learn how to support old browsers
Enhance your site with sound

Module 4 Advanced Layout with Tables This module explains how to create and work with tables in a Web page. Lessons Creating Tables Advanced Layouts with Tables Grouping Rows and Columns Tips and Tricks

Labs

Lab 4: Advanced Layout with Tables
Overview
Working with Tables
Using Tables for Layout

After Completing This Goal, Students will be Able To

Create tables
Group rows and columns

Module 5 Hypertext Links This module explains the URL structure, creating hypertext links and image maps. Lessons Anatomy of a URL Working with Anchors Linking to Web Pages Other Hypertext Links Image Maps

Labs

Lab 5: Hypertext Links
Overview
Creating Hyperlinks
Using Named Anchors
Working with Image Maps

Module 6 Frames This module explains the advantages of implementing frames and how to create frames. Lessons What are Frames? Creating a Frameset Document Frame Attributes Using Hyperlinks Frame Layout

Labs

Lab 6: Frames
Overview
Creating Frames
Adding Hyperlinks
Creating Floating Frames

After Completing This Goal, Students will be Able To

Understand the advantages of implementing frames
Understand how frames are created
Be familiar with many features of frames

Module 7 Cascading Style Sheets This module explains how to create a simple CSS style sheet and explains CSS formatting layout styles. Lessons Cascading Style Sheets Overview Using Style Sheets Formatting and Layout Advanced Techniques

Labs

Lab 7: Cascading Style Sheets
Overview
Use CSS for Text Formatting
Use CSS for Positioning

After Completing This Goal, Students will be Able To

Understand the purpose of CSS as it relates to HTML
Create a simple CSS style sheet
Be aware of the limited support of both Level 1 and Level 2 CSS
Understand the many selector in the CSS specifications
Understand the &ltSPAN&gt and &ltDIV&gt tags

Module 8 HTML Forms This module explains how to accept user input on a Web page, the purpose of the &ltFORM&gt tag and how to find the numerous control available for gathering information. Lessons Introduction to Forms Form Controls Implementing Forms Advanced Form Design

Labs

Lab 8: HTML Forms
Overview
Simple Form
Complex Form

After Completing This Goal, Students will be Able To

Learn how to accept user input on your Web site
Understand the purpose and proper use of the &gtFORM&lt tag
Investigate the numerous controls available for gathering information
See how data is processed on the Web server

Module 9 Creating Interactive Web Pages This module explains how to make pages interactive, add Java Applets and ActiveX Controls. Lessons Introduction to Scripting JavaScript Performing Field Validation VBScript Using Java Applets Using ActiveX Controls

Labs

Lab 9: Creating Interactive Web Pages
Overview
Simple Field Validation
Web Calculator

After Completing This Goal, Students will be Able To

Make pages interactive through scripting
Understand the JavaScript and VBScript language
Add Java Applets and ActiveX Controls
Understand simple form validation
Create browser-aware Web pages

Module 10 DHTML This module explains how to understand the current state of DHTML and DOM, create interactive pages with classes, alter content from the browser and perform simple animation. Lessons What is HTML? Document Object Model (DOM) Dynamic Styles Dynamic Classes Dynamic Content

Labs

Lab 10: DHTML
Overview
Creating Dynamic Buttons
Event Bubbling

After Completing This Goal, Students will be Able To

Understand the current state of DHTML
Understand the Document Object Model (DOM)
Create interactive pages with classes
Alter content from the browser
Perform simple animation




Prerequisites & Certificates

Pre-Requisites

A basic familiarity with PC's and Windows 95, 98, NT, or 2000. A basic understanding of how the Internet works. A basic understanding of the concepts relating to databases (what is a table, field, etc. ).

Certificates offered

MS Certtification




Cancellation Policy

ctc TrainCanada - We Never Cancel*:
We are unique in the corporate training field in that we do not cancel desktop applications courses due to low enrollment. When there are less than 3 students, ctc TrainCanada will personalize the class (students then receive more time with the instructor to address their individual needs allowing the student to complete the full course in less time) or connect the student remotely to a class at one of our other branches via TrainLive remote classroom instruction. *Microsoft Certified Courses and other technical courses require a minimum enrollment of three students. Business Skills courses require multiple students in order to run due to the interactive nature of the training. Selected Desktop Applications courses may require a minimum enrollment of two students to run. ctc TrainCanada® reserves the right to deliver Microsoft Certified and other technical courses via TrainLive remote classroom instruction in order to guarantee the course to run.

ctc TrainCanada Cancellation policy:
You may cancel or reschedule this registration in writing with no penalty with a minimum of 10 business days' notice prior to the first day of the course. Full payment is required if you cancel or reschedule this registration within 10 business days prior to the first day of the course. However, substitutions are welcome. If you do need to cancel or reschedule a publicly scheduled course within the 10 day non-cancellation period (not a client dedicated course), payment is to be made and a training voucher for a public course will be issued to you. This allows you to attend a future date for the same course at no charge (subject to availability).
No-shows will not be issued a training voucher.

Complimentary Service: We offer all our students coffee, tea, juice or pop, muffins or pastries in the morning and cookies baked in our own oven each afternoon.


Map & Reviews




Reviews

This course has not yet been rated by one of our members.

If you have taken a course through this vendor please log into your account and leave feedback for this vendor. You will be helping ensure our members get directed to the best training facilities.

Here are some reviews of the training vendor.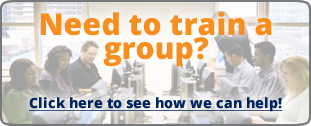 This course currently does not have any dates scheduled. Please call
1-877-313-8881

to enquire about future dates or scheduling a private, in house course for your team.
This page has been viewed 361 times.