SharePoint for Business Process Automation
» back to Search Results
This 3-day course teaches business professionals how to take advantage of SharePoint's robust automated business processes. This course is designed to provide students with a deep dive into SharePoint automation ranging from working with documentation...
Course Start Date:

Dec. 18

Location: Virtual

(Map)

Time:

10:30 am - 5:30 pm

(Note on end times)

Please Note: End Times are approximate and depend
on the number or students and pace of the class.
It is important to allow for the class to run a little bit longer,
or finish a little sooner, than expected.

Duration:

3 Days
Delivery Method(s):

Virtual Instructor Led

Mentored training is a revolutionary training method
that provides you with the quality training that
you have come to expect, and combines it with
flexible learning and a self paced environment.
For more information click here.

Discount Seats Available:

2

Category:

Microsoft Sharepoint Training
Course Outline

This three-day course teaches business professionals how to take advantage of SharePoint's robust automated business processes. This course is designed to provide students with a deep dive into SharePoint automation ranging from working with documentation to managing records to full workflow processes and task tracking. Users that have some SharePoint knowledge will find this class perfect for learning and building on advanced SharePoint topics. 

This class is designed for SharePoint 2013, SharePoint 2016 and SharePoint 365 users. Labs are conducted in SharePoint 2013 and will be updated to the SharePoint 2016 environment as of June/July 2016.

Empower users to focus on the work that matters instead of the process of how the work gets done Develop organizational efficiency through automation of repetitive tasks Automation contributes to a more consistent user experience Save your organization time, effort and money Organize, manage, and handle content consistently across your business Easily track processes from beginning to end Simplify user discovery of important content Help enforce compliance with government and legal regulations, or internal business processes Identify important information for record retention Focus on real world user application

Who Should Attend


The target audience for this class is experienced SharePoint users tasked with information management. The audience includes the following SharePoint roles: 

Power Users
Site Owners
Content Editors
Information Managers
Site Administrators
Site Collection Administrators 
Project Managers
Team Supervisors

This class is for SharePoint 2013, 2016, and Office 365 Users.


Course Outline


1. Working with Sites

a. Definition of a Site – Why do we create new Sites? 
b. Site Components revisited
c. Site Templates explained for Business Process Automation

Team Site
Project Site
Records Center
Document Center

d. Site Settings and Features 
e. Creating Sites

Initial Settings: Title, URL, Template, and default Permissions and Navigation
Default layout based on template selection
Editing Navigation: Top Link Bar and Quick Launch
Site Settings
Tree View

Lab 1: Creating a Site Structure – BPA Example

Create a Site Collection Top Level Site
Default Groups and Permissions
Settings and Features
Create Child Sites – BPA Example
Simple site branding: Title, Logo, Composed Looks
Navigation

2. SharePoint Lists

a. What are Lists?
b. Using Lists to manage Business Processes Automation
c. Available List Apps
d. Creating Apps using List templates

Creating common Lists from templates
Building a Custom List
Importing from Excel

e. Working with the Tasks List App

Parent/Child Tasks
Using the Timeline
Using the different Views

f. Working with Issue Tracking
g. Working with Key Performance Indicator (KPI) List

KPI from SharePoint List
KPI from Excel Spreadsheet 

h. Advanced List Topics

Validating a List Column
Advanced Settings
Deleting Lists
Saving as a Template
Enterprise Keywords
Using Alerts

i. Working with Views

Exploring existing Views
Creating a new View

Lab 2: Working with Lists in the SharePoint BPA Site

Create Lists in the SharePoint BPA Site
"BPA" Tasks
"BPA" Calendar
Custom "Classes" List

3. SharePoint Libraries

a. What are Libraries? 
b. Using Libraries to manage document information lifecycle in the Enterprise
c. Library Architecture

Content Types- Documents
Metadata
Importance of Metadata
Folders vs. Metadata
Columns/Fields Types
Views 

d. Available Library Apps
e. Creating Apps using Library templates

Creating a Document Library
Creating a Report Library

f. Using Version Control

Major Versions
Major and Minor Versions
Content Approval

g. Advanced Library Topics 

Validating a List Column
Advanced Settings
Deleting a Library
Saving as a Template (with content)
Generating a File Plan Report

h. Working with Views

Exploring existing Views
Creating a new View

Lab 3: Working with Libraries in the SharePoint BPA Site

Create Libraries in the SharePoint BPA Site
Create a Document Library
Upload documents and create new documents
Enable Version Control
Work with documents with Version Control
Create a File Plan Report
Create a Reports Library
Upload and work with reports

4. Content Types

a. What are Content Types?

Site Columns
Content Types
Document Sets

Lab 4: Working with Site Columns and Site Content Types

Create Site Columns in the SharePoint BPA Site
Create Site Content Types in the SharePoint BPA Site
Allow Management of Contents in Document Library
Explore Content Types

5. Enterprise Content Management

a. Importance of ECM – What is ECM?
b. Folders vs. Metadata
c. Views and Metadata Navigation

Metadata Navigation Settings
Configure Hierarchies and Key Filters

d. Default Column Values
e. Information Management Policies

Retention
Auditing 
Barcodes 
Lables 

f. In-place Record Management

Record Declaration Settings 
Manual Record Declaration 

g. File Plans 

Identify Kinds of Records
File Plan Settings
Creating File Plan

h. Record Management

Record Center Site
Create Lists and Libraries
Adding Existing Content Types
Information Management Policies

I. Content Organizer

Content Organizer Settings
Create Routing Rules for Content Types

j. Document ID Service 

Enable and Configure Use of Document IDs in a Site Collection

k.Managed Metadata
l.Managed Metadata Navigation

Lab 5: Working with Enterprise Content Management

Create Views in a Document Library
Enable Metadata Navigation in a Document Library
Enable Default Column Values in a Document Library
Enable Information Management Polices in a Document Library
Configure In-place Records Management in BPA Site
Create a File Plan
Configure Content Organizer in BPA Site
Configure Document ID Service in BPA Site
Create Managed Metadata in BPA Site
Enable Managed Metadata in a Document Library
Create and Configure Managed Metadata Navigation

6. InfoPath Form Services

a. What is InfoPath

InfoPath Form Filler
InfoPath Form Designer
The Future of InfoPath 

b. Creating List based InfoPath forms.
c. Working with Library based InfoPath Forms.
d. InfoPath page design, layout, and themes.
e. Using tables for advanced layout.
f. InfoPath Fields and Form Controls.
g. Managing Rules

Validating Data
Formatting Data
Actions
Query for Data or Submit to a Data Connection
Set a Field Value
Switch Views

h. Publishing InfoPath Forms
I. InfoPath Form Web Part

LAB 6: Working with InfoPath Form Services

Create an InfoPath Form from a List
Create an InfoPath Form and Publish to a Library
InfoPath Form Web Part

7. Discussion of Alternatives to SharePoint Forms

a. Nintex
b. K2
c. Formotus

8. SharePoint Designer

a. What is SharePoint Designer?

History
Versions
Basic User Interface

b.Common Uses of SharePoint Designer

Site Creation
User Groups and Permissions
Lists and Libraries
Columns
Views
Content Types
Site Columns
Site Content Types
Workflows

LAB 7: Working with SharePoint Designer

SharePoint Designer Basics

9. Business Process Automation using Workflow

a. Out-Of-The-Box Workflow

Approval Workflow
Feedback Workflow
Digital Signatures Workflow
Three State Workflow
Publishing Workflow
Disposition Workflow

b. Workflow Settings

Task List
History List
Adding Users to Workflows
Serial Workflows vs. Parallel Workflows
Stages
Due Dates
Duration Per Task
Content Approval

c. Workflow administration

Manually Starting a Workflow by an Authenticated User

d. Workflow Creation from the Web Browser

List/Library Workflows
Content Type Workflows
Site Workflows

e. Complete a Workflow Task

Lab 8: Employing Out-of-the-box Workflows

Creating List/Library Workflows
Creating an Approval Workflow
Creating a Feedback Workflow
Creating Content Type Workflows
Creating a Digital Signature Workflow
Creating a Three-State Workflow
Creating Site Workflows

10. Creating Custom Workflows

a. 2010 Custom Workflows supported in 2013

Create Rules Based Workflows
Steps
Actions
Conditions
Events

b. 2013 Workflows

Changes from 2010 Custom Workflows
Create Rules Based Workflows
Stages
Actions
Conditions
Events
Loops

Lab 9: Creating Custom Workflow with SharePoint Designer

Creating a 2010 Custom Workflow
Creating a 2013 Custom Workflow

11. Advanced Workflow Topics

a. Email Customization

Layout, Markup, and Branding

b. Creating Custom Workflow Forms

Modifying InfoPath Forms Used in Workflows

c. Workflows and Quick Parts

Creating Reusable Content in Word for use in Workflows

d. Initiation Forms 

Collection Information from Users to Reference in Workflows

e. Workflow Variables 

LAB 10: Advanced Workflow Topics

Working with Advanced Workflow Topics

Email Customization
Creating Custom Workflow Forms
Workflows and Quick Parts
Initiation Forms with Workflow
Workflow Variables

12. Customizing a SharePoint Environment for Business Process Automation

a. Pages

Page Types
Choosing the right Page type
Creating Pages

b. Web Parts

What are Web Parts
Using the common Web Parts
Web Part properties

c. Page Design

Creating Pages
Page layout
Placing components on your Page

LAB 11: Customizing your BPA Site

Creating a new Page
Configuring Pages and Web Parts for BPA

13. Classroom Q&A

 



Prerequisites & Certificates

Pre-Requisites

Certificates offered

25.00 CPEs 21.00 T-PDUs Certificate of Completion




Cancellation Policy

If a change needs to be made to your public course registration (cancel, transfer, or substitution) ASPE must receive written notice via email at customerservice@aspeinc.com or fax at 919-816-1710. If a cancel or transfer request is made less than 15 business days prior to the class start date, payment will still be due, no refunds will be issued and you will be charged a $200 change fee. Your paid tuition will be available for one year to be used as a credit towards another course of equal value; only one reenrollment opportunity is allowed. Failure to attend the course without written notification will result in forfeiture of the full course price. Student substitutions may be made at any time prior to the start of class free of charge. If ASPE is forced to cancel a course for any reason, liability is limited to the registration fee only.


Map & Reviews

Virtual
Your Address
Your City, Your Province
Your Country Your Postal




Reviews

This course has not yet been rated by one of our members.

If you have taken a course through this vendor please log into your account and leave feedback for this vendor. You will be helping ensure our members get directed to the best training facilities.

Here are some reviews of the training vendor.
Registration for this course has been closed.
This course may be available on a different date listed below.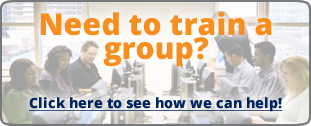 This course currently does not have any dates other than this one scheduled. Please call 1-877-313-8881 to enquire about future dates.
Not interested in this Course?
Tell us why:
This page has been viewed 13 times.