1913A: Exchanging and Transforming Data Using XML and XSLT (MS Certification)
» back to Search Results
The goal of this course is to teach developers techniques for exchanging and transforming data by using the Extensible Markup Language (XML) and Extensible Stylesheet Language Transformations (XSLT).
Course Outline





The goal of this course is to teach developers techniques for exchanging and transforming data by using the Extensible Markup Language (XML) and Extensible Stylesheet Language Transformations (XSLT). The course describes best practices for XML and XSLT and gives compelling examples of the best ways to solve real-world problems.




Audience

This course is intended for Web developers who have used XML to create simple Web applications, and need to know how to exploit the full potential of XML and XSLT.

The course is also intended for Microsoft Visual Basic developers who have some exposure to XML, and need more detailed information about XML in order to build and integrate systems by using XML and XSLT.




Prepares For

There is no Microsoft Certified Professional exam associated with this course.

Course Completion Skills:

After completing this course, students will be able to define XML Path Language (XPath) expressions to locate and filter the content of an XML document; define XSLT style sheets to transform XML documents at the Web browser and Web server; create and change XML structure by using XSLT; use XSLT to merge different XML documents and generate cross-references between them; and create a Visual Basic application that uses the Simple API for XML (SAX) to access large XML documents.

Course Outline Module 1 Overview of XML and XSLT The following topics are covered in this module: Representing Data with XML Transforming XML Documents with XSLT Using XML and XSLT to Build Solutions

After Completing This Goal, Students will be Able To

Describe the syntax of XML documents.
Describe the purpose of XSLT style sheets
Describe typical problems that XSLT style sheets are used to solve.

Module 2 Selecting and Navigating Nodes Using XPath The following topics are covered in this module: Introducing XPath Accessing Node Information Navigating a Document Using Location Paths Using Operators and Functions in Location Paths

Labs

Lab 2.1: Accessing Node Information
Lab 2.2: Selecting and Navigating Nodes Using XPath

After Completing This Goal, Students will be Able To

After completing this module, you will be able to use Xpath to traverse nodes in a tree. This includes:
Using XPath expressions within the Document Object Model (DOM) methods selectNodes() and selectSingleNode().
Writing XPath location paths to select specific nodes from an XML document.
Writing conditional expressions in XPath.
Using XPath operators and functions to write more sophisticated expressions.

Module 3 Introducing XSLT The following topics are covered in this module: Introducing XSLT Template Rules Enhancing Template Rules

Labs

Lab: Defining and Using Template Rules

After Completing This Goal, Students will be Able To

After completing this module, you will be able to explain and implement the rules for using templates in XSLT. This includes:
Applying an XSLT style sheet to an XML document, both statically and dynamically.
Defining and instantiating template rules to make use of the transformation capabilities of XSLT.

Module 4 Refining and Combining Style Sheets The following topics are covered in this module: Sorting Document Content Controlling Document Output Including and Importing Style Sheets

Labs

Lab: Refining and Combining XSLT Style Sheets

After Completing This Goal, Students will be Able To

After completing this module, you will be able to sort the contents of an XML document and use style sheets. This includes:
Specifying a sort order for the result document, alphabetically or numerically, in ascending or descending order.
Specifing number formats for the result document.
Specifing whether white space in the result document is stripped or preserved.
Including one style sheet inside another.
Importing one style sheet into another.
Overriding imported template rules in the main style sheet.

Module 5 Programming with XSLT The following topics are covered in this module: Named Templates Variables and Parameters Performing Repetition and Conditional Processing Using XSLT Extension Elements and Functions

Labs

Lab: Programming with XSLT

After Completing This Goal, Students will be Able To

After completing this module, you will be able to write code to perform tasks in XSLT. This includes:
Defining and calling named templates.
Using named templates to organize a style sheet effectively.
Defining variables to represent complex expressions.
Defining parameters for a template rule or a style sheet.
Performing repetition and conditional logic within a template.
Using extension elements and extension functions.

Module 6 Defining XML Grammar and Data Types The following topics are covered in this module: Defining and Using XML Schemas Defining Elements in an XML Schema Defining Attributes in an XML Schema Defining Data Types in an XML Schema XML Schemas and ADO

Labs

Lab: Defining XML Grammar and Data Types

After Completing This Goal, Students will be Able To

After completing this module, you will be able to create and use an XML Schema. This includes:
Creating an XML Schema definition.
Applying an XML Schema to an XML document.
Using an XML Schema to define the grammar of an XML document.
Using an XML Schema to describe the content data types in an XML document.

Module 7 Creating and Changing XML Structure with XSLT The following topics are covered in this module: Creating New Structure Using XSLT

After Completing This Goal, Students will be Able To

After completing this module, you will be able to create a new XML structure by using XSLT. This includes:
Creating new elements in a result document.
Defining attributes and namespaces for new elements.
Inserting numbered text into a result document.
Adding processing instructions and comments to a result document as necessary.

Module 8 Cross-Referencing Documents Using XSLT The following topics are covered in this module: Accessing Multiple XML Documents in a Style Sheet Introducing Cross-References Generating Cross-References in Result Documents

Labs

Lab: Cross-Referencing Documents Using XSLT

After Completing This Goal, Students will be Able To

After completing this module, you will be able to cross-reference documents by using XSLT. This includes:
Writing XSLT style sheets that access and transform multiple XML documents.
Defining keys to identify nodes in an XML document.
Using keys to access nodes in the same XML document or a different XML document.
Generating cross-references in the result document of an XSLT transformation.

Module 9 Manipulating XML Documents Using SAX The following topics are covered in this module: Overview of SAX Using SAX Interfaces

Labs

Lab: Manipulating XML Documents Using Sax

After Completing This Goal, Students will be Able To

After completing this module, you will be able to use the SAX interfaces to manipulate XML documents. This includes:
Identifying situations where it is more useful to manipulate XML documents by using SAX than by using the DOM.
Choosing the correct SAX COM interface and methods to handle typical programming tasks associated with manipulating an XML document.
Creating an application with Visual Basic that uses SAX to manipulate an XML document.

Module 10 Putting It All Together The following topics are covered in this module: Scope and Purpose of the Northwind Traders Web Site

Labs

Lab: Northwind Traders Web Site

After Completing This Goal, Students will be Able To

After completing this module, you will be able to use all of the skills you learned in this course to transform and manage data by using XSLT. This includes:
Making appropriate use of XSLT and XML technical features.
Creating XML documents from a database by using Microsoft ActiveX Data Objects (ADO) in an ASP page.
Writing style sheets to transform XML into HTML or another XML grammar.
Applying a style sheet dynamically at the Web browser or the Web server.
Embedding XML documents and XSLT style sheets as data islands in HTML.
Using the DOM to modify an XSLT style sheet dynamically.
Using the DOM to create new XML content dynamically.
Integrating ASP pages and XSLT style sheets with COM.
Posting XML data from a Web browser to a Web server.
Designing and using XML Schemas to validate XML structure and content.




Prerequisites & Certificates

Pre-Requisites

A moderate degree of Web development experience using HTML and XML. A moderate degree of experience scripting with Visual Basic for Applications, VBScript, or JavaScript. Some prior experience using COM objects, Active Server Pages (ASP pages), and either Visual Basic or Microsoft Visual C++. Taking one or more of the following courses will help the students meet the prerequisites and get more out of the course: Course 1905, Building XML-Based Web Applications Course 1013, Mastering Microsoft Visual Basic 6 Development Course 1017, Mastering Web Application Development Using Microsoft Visual InterDev 6

Certificates offered

MS Certification




Cancellation Policy

ctc TrainCanada - We Never Cancel*:
We are unique in the corporate training field in that we do not cancel desktop applications courses due to low enrollment. When there are less than 3 students, ctc TrainCanada will personalize the class (students then receive more time with the instructor to address their individual needs allowing the student to complete the full course in less time) or connect the student remotely to a class at one of our other branches via TrainLive remote classroom instruction. *Microsoft Certified Courses and other technical courses require a minimum enrollment of three students. Business Skills courses require multiple students in order to run due to the interactive nature of the training. Selected Desktop Applications courses may require a minimum enrollment of two students to run. ctc TrainCanada® reserves the right to deliver Microsoft Certified and other technical courses via TrainLive remote classroom instruction in order to guarantee the course to run.

ctc TrainCanada Cancellation policy:
You may cancel or reschedule this registration in writing with no penalty with a minimum of 10 business days' notice prior to the first day of the course. Full payment is required if you cancel or reschedule this registration within 10 business days prior to the first day of the course. However, substitutions are welcome. If you do need to cancel or reschedule a publicly scheduled course within the 10 day non-cancellation period (not a client dedicated course), payment is to be made and a training voucher for a public course will be issued to you. This allows you to attend a future date for the same course at no charge (subject to availability).
No-shows will not be issued a training voucher.

Complimentary Service: We offer all our students coffee, tea, juice or pop, muffins or pastries in the morning and cookies baked in our own oven each afternoon.


Map & Reviews




Reviews

This course has not yet been rated by one of our members.

If you have taken a course through this vendor please log into your account and leave feedback for this vendor. You will be helping ensure our members get directed to the best training facilities.

Here are some reviews of the training vendor.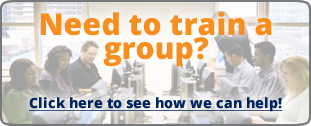 This course currently does not have any dates scheduled. Please call
1-877-313-8881

to enquire about future dates or scheduling a private, in house course for your team.
This page has been viewed 354 times.