Crystal Reports XI Level 2
» back to Search Results
In this course, students learn how to create more sophisticated reports including subreports and cross-tabs, and how to increase the speed and efficiency of your reports by using SQL queries.
Course Start Date:

Dec. 6

Location: Toronto

(Map)

Time:

9:00 am - 4:30 pm

(Note on end times)

Please Note: End Times are approximate and depend
on the number or students and pace of the class.
It is important to allow for the class to run a little bit longer,
or finish a little sooner, than expected.

Duration:

2 days
Delivery Method(s):Instructor Assisted (Mentored)

Mentored training is a revolutionary training method
that provides you with the quality training that
you have come to expect, and combines it with
flexible learning and a self paced environment.
For more information click here.

Seats Available:

YES

Category:

Crystal Reports Training Courses
Course Outline

In this course, students learn how to create more sophisticated reports including subreports and cross-tabs, and how to increase the speed and efficiency of your reports by using SQL queries.

Introducing the Acend Modern Classroom Classes Guaranteed to Run

An assessment process takes place at the start of class that results in the creation of a personalized learning plan for each participant . We integrate each individual's specific project objectives with their skill gaps to create the learning prescription. The instructor assumes the role of consultant and guides each participant through the process of filling the critical gaps identified in the learning plan.

Who Should Attend:

This course is designed for people who know how to create basic list and group reports and need to create reports that include subreports, cross-tabs, advanced formulas, and charts based on more than one data series. They may also need to build tools to make it easier for other people to create reports. They may or may not have programming and/or SQL experience.

At Course Completion:

Upon successful completion of this course, students will be able to: - create running totals in a report. - build cross-tabs in your report. - add subreports to a report. - design a report that uses a drill-down. - improve processing speed in your reports. - chart single and multiple data series. - report from Excel data. - implement report prompts. - enhance report functionality.

Course Outline Lesson 1: Creating Running Totals


Create a Running Total Field
Modify a Running Total Field
Create a Manual Running Total on Detail Data
Create a Manual Running Total on Summary Data

Lesson 2: Building Cross-tabs in Your Report


Create a Cross-tab
Create a Specified Group Order
Filter a Cross-tab by Group
Change the Cross-tab Format
Conditionally Format Rows and Columns
Keep Groups Together

Lesson 3: Adding Subreports


Insert a Subreport
Link a Subreport to a Primary Report
Edit a Subreport's Structure
Format a Subreport Using the Format Editor
Share Variables Between Subreports and Primary Reports
Create an On-demand Subreport

Lesson 4: Creating Drill-downs


Create a Drill-down
Create Separate Headings for Drill-down Data

Lesson 5: Enhancing Report Processing by Writing SQL Statements


Create a Report Using SQL Queries
Summarize Report Data Using SQL Aggregate Functions
Create Joins Using SQL
Create Subqueries
Create a SQL Expression Field

Lesson 6: Charting Data


Create a Bar Chart
Modify a Chart
Format a Chart
Create a Chart Template
Create a Top N Chart
Create a Cross-tab Chart

Lesson 7: Reporting on Excel Data with Crystal Reports


Create a Report Based on Excel Data
Modify a Report Generated from Excel Data
Update Data in a Report Based on Excel Data

Lesson 8: Working with Prompts


Create a Static Prompt
Create a Dynamic Prompt

Lesson 9: Enhancing Report Functionality


Group Data Hierarchically
Create a Dynamic Image
Create a Report Alert
Create a Geographic Map




Prerequisites & Certificates

Pre-Requisites

Crystal Reports XI - Level 1

Certificates offered

Certificate of completion




Cancellation Policy

Cancellations or postponements received more than ten business days prior to the first day of the course will be fully refunded less a $75 processing fee. The cost of the course is payable, in full, for any cancellations or postponements received within ten business days, or less, prior to the first day of the course.


Map & Reviews

Toronto Training Center
69 Yonge St
Suite 1200
Toronto, Ontario
Canada M5H 1A1




Reviews

We have not received any reviews specific to this course as yet, however here are some reviews of the training vendor.
Registration is fast, and will take approximately 3 minutes. There is no membership fee.
» You are also welcome to Make an Offer

Not enough budget for this course? Maybe you just love to make deals!
In either case, our Make an Offer feature gives you the opportunity to name
your own price. Try it out, you might get lucky, just keep in mind it can
take up to 1 full business day to get a response!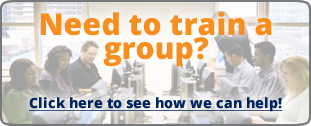 This course currently does not have any dates other than this one scheduled. Please call 1-877-313-8881 to enquire about future dates.
Not interested in this Course?
Tell us why:
This page has been viewed 36 times.