Microsoft Excel 2007 Level 2
» back to Search Results
Topics included in this 1 day course are : templates, security, managing tables, charts, getting the most out of your data, lists and more.
Course Start Date:

Jan. 20

Location: Vancouver

(Map)

Time:

8:30 am - 4:30 pm

(Note on end times)

Please Note: End Times are approximate and depend
on the number or students and pace of the class.
It is important to allow for the class to run a little bit longer,
or finish a little sooner, than expected.

Duration: 1 Day
8:30 AM - 4:30 PM
Delivery Method(s):

Instructor Led

Mentored training is a revolutionary training method
that provides you with the quality training that
you have come to expect, and combines it with
flexible learning and a self paced environment.
For more information click here.

Discount Seats Available:

2

Category:

Microsoft Excel Training
Course Outline

Microsoft Office Excel contains powerful tools to help you analyze, manage, and share critical business data. Our latest version also lets you work more efficiently in teams, while helping to protect and control access to sensitive information.

Objectives

Name and Reference Cells
Protect Data
Templates
Advanced Functions
Create Charts
Create Tables
Work with Data Series

Outline

Section 1 - Templates

Opening a Template
Downloading a Template
Using a Template
Creating a Template

Section 2 - Security

Protecting your Workbook
Protecting your Worksheets
Unlocking Cells

Section 3 - Managing Tables

What is a Table?
Creating Tables
Modifying Tables
What is the Total Row?
What are Records and Fields?
Adding Fields by Inserting Columns
Adding Records by Inserting Rows
Quickly Adding Records to a Data Table
Deleting Records or Fields
Sorting Data in a Table
What is an AutoFilter?
Custom AutoFilters
Using an Advanced Filter
Copying Filtered Records
Filtering with Wildcard Characters
Validating Your Data

Section 4 - Charts

Creating a Chart
Formatting a Chart
Modifying Charts with the Layout Ribbon
Manipulating a Chart
Enhancing a Chart with Shapes and Graphics
Changing the Type of Chart
Changing the Source Data
Working with the Chart Axis and Data Series
Saving a Chart as a Template

Section 5 - Getting The Most Out Of Your Data

Using Automatic Outlining
Displaying and Collapsing Levels
Grouping Data Manually
Creating Subtotals
Linking Workbooks

What Are Range Names?
Defining and Using Range Names
Selecting Nonadjacent Ranges

Section 6 - Lists

Using Financial Functions (PMT)
Using the IF Function
Working with Nested Functions




Prerequisites & Certificates

Pre-Requisites

Microsoft Excel 2007 Level 1 or equivalent experience

Certificates offered

Certificate of completion




Cancellation Policy

Should you postpone or cancel your course you must give 5 business days notice.


Map & Reviews

On Track Computer Training Center
885 West Georgia St.
4th Floor
Vancouver, British Columbia
Canada V6C 3E8



Registration is fast, and will take approximately 3 minutes. There is no membership fee.
» You are also welcome to Make an Offer

Not enough budget for this course? Maybe you just love to make deals!
In either case, our Make an Offer feature gives you the opportunity to name
your own price. Try it out, you might get lucky, just keep in mind it can
take up to 1 full business day to get a response!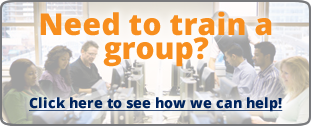 This course is also scheduled on the following dates:
Not interested in this Course?
Tell us why:
This page has been viewed 28 times.