Microsoft Excel 2007 Level 1
» back to Search Results
Topics included in this 1 day course are : getting started, spreadsheet basics, functions and formulas, editing your workbook, viewing and printing your workbook and more.
Course Start Date:

Dec. 6

Location: Vancouver

(Map)

Time:

8:30 am - 4:30 pm

(Note on end times)

Please Note: End Times are approximate and depend
on the number or students and pace of the class.
It is important to allow for the class to run a little bit longer,
or finish a little sooner, than expected.

Duration: 1 Day
8:30 AM - 4:30 PM
Delivery Method(s):

Instructor Led

Mentored training is a revolutionary training method
that provides you with the quality training that
you have come to expect, and combines it with
flexible learning and a self paced environment.
For more information click here.

Discount Seats Available:

2

Category:

Microsoft Excel Training
Course Outline

Microsoft Office Excel contains powerful tools to help you analyze, manage, and share critical business data. Our latest version also lets you work more efficiently in teams, while helping to protect and control access to sensitive information.

Objectives

Navigate worksheets, document windows, and the application window
Manage and manipulate Excel files
Edit data
Work with ranges
Create simple formulas
Use built-in Excel functions
Cut, copy, and paste data
Format column width, row height, fonts, styles, borders and shading, data type and alignment
Print worksheets

Outline

Section 1 - Getting Started

What is Microsoft Excel 2007?
Opening Microsoft Excel
Exploring the Excel User Interface
Closing Excel
Using the Help Screen
About Online Help
About Offline Help

Section 2 - Spreadsheet Basics

The Zoom Feature
Moving Around a Worksheet
Selecting Cells
Columns, Rows, and Ranges
Entering and Deleting Data
Using Undo and Redo
AutoFill and Complete
Dragging and Dropping Cells
Cut, Copy, and Paste Cells
Insert and Delete Cells, Rows, and Columns
What Are Smart Tags?
The Error Option Button
The AutoFill Option Button
The Paste Option Button
Setting Smart Tag Options
Creating a New Workbook
Opening a Workbook
Saving a Workbook
About Excel File Types
Closing a Workbook

Section 3 - Functions and Formulas

Basic Mathematical Operators
Working with Basic Formulas
Using Formulas with Multiple Cell References
Relative and Absolute Cell References
Fixing Formula Errors
Displaying and Printing Formulas
What are Functions?
Finding the Right Function
Some Useful and Simple Functions
Using AutoSum

Section 4 - Editing Your Workbook

Changing the Size of Rows or Columns
Adjusting Cell Alignment
Rotating Text
Creating Custom Number and Date Formats
The Format Painter
Cell Merging and AutoFit
Adding Patterns and Colors
Adding Borders
Working with Styles

Section 5 - Viewing your Workbook

Using the View Ribbon
Using Normal View
Using Full Screen View
Using Page Layout View
Page Break Preview
Managing a Single Window
Creating a New Window
Freezing a Pane
Managing Multiple Windows
Switching Between Open Workbooks
Arranging Workbooks
Comparing Workbooks Side by Side
Synchronous Scrolling, Resetting a Window, and Saving a Workspace

Section 6 - Printing Your Spreadsheet

Opening Print Preview
Using the Print Preview Ribbon
Quick Printing
The Print Dialogue
Using Page Setup




Prerequisites & Certificates

Pre-Requisites

* A thorough understanding of the Windows operating environment * Strong mouse and keyboard ability

Certificates offered

Certificate of Completion




Cancellation Policy

Should you postpone or cancel your course you must give 5 business days notice.


Map & Reviews

On Track Computer Training Center
885 West Georgia St.
4th Floor
Vancouver, British Columbia
Canada V6C 3E8



Registration is fast, and will take approximately 3 minutes. There is no membership fee.
» You are also welcome to Make an Offer

Not enough budget for this course? Maybe you just love to make deals!
In either case, our Make an Offer feature gives you the opportunity to name
your own price. Try it out, you might get lucky, just keep in mind it can
take up to 1 full business day to get a response!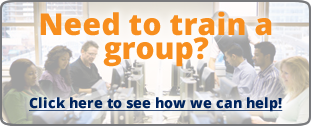 This course is also scheduled on the following dates:
Not interested in this Course?
Tell us why:
This page has been viewed 16 times.