Adobe InDesign - Level 1 / Intro
» back to Search Results
This course is intended for students who want to explore the basic tools and features of InDesign for creating professional page layouts and designs. Objectives marked with an asterisk are taught for CS5/CS6 only.
Course Start Date:

Feb. 21

Location: Halifax

(Map)

Time:

9:00 am - 4:00 pm

(Note on end times)

Please Note: End Times are approximate and depend
on the number or students and pace of the class.
It is important to allow for the class to run a little bit longer,
or finish a little sooner, than expected.

Duration:

2 days 9:00 AM - 4:00 PM
Delivery Method(s):

Instructor Led

Mentored training is a revolutionary training method
that provides you with the quality training that
you have come to expect, and combines it with
flexible learning and a self paced environment.
For more information click here.

Seats Available:

YES

Category:

Adobe InDesign Training
Course Outline

This course is intended for students who want to explore the basic tools and features of InDesign for creating professional page layouts and designs. Objectives marked with an asterisk are taught for CS5/CS6 only.


Course Outline

Explore the InDesign Environment
Understand and Manipulate Workspace Elements
Customize the Workspace
Use Templates
Choose Layout Options
Use Document Rulers
Use Margin and Column Guides
Use Ruler Guides
Use Document Grids
Change the Magnification
Use Zoom and Hand Tools
Use Power Zoom
Work with Tabbed Documents and Workspace Switcher
Use the N-Up View
Rotate a View
Save Documents
Change and Create Workspaces

Work with Text
Create Text Frames
Type, Select, Move and Delete Text
Use the Character and Paragraph Panels
Style Text
Set Alignment and Indents
Flow Text
Use Smart Text Reflow
Set Text Frame Options
Span, Split and Balance Columns*
Insert Special Text Characters –bullets/glyphs
Use the Story Editor
Use Search and Replace, Spell check, Autocorrect, Find Font

Work with Objects
Draw Basic Shapes
Replicate Objects
Select, Move and Resize Objects
Use Transform Tools, Panel and Commands
Rotate with Selection Tool*
Transform Multiple Selected Items*
Arrange, Align, Group, Lock Objects
Use Smart Guides, Dimensions, Spacing and Cursors
Use Live Screen Drawing and Distribute*
Super Step and Repeat*
Use Tool Hints Panel*
Use Fill Effects
Use Stroke Effects
Use Corner Effects
Use Live Corner Effects*
Set Object Defaults

Work in Colour
Understand Colour Modes
Use the Colour Panel
Use the Swatches Panel and Swatch Libraries
Create Tint Swatches
Create Swatches from Unnamed Colours
Create Gradient Swatches
Use the Eyedropper Tool

Imported Graphics
Make Graphic Frames
Place Artwork
Use Proportional Place Fitting Options
Use Auto-Fit Frame Fitting Options*
Grid Mode for Frame Creation Tools*
Grid Place to Create contact Sheet*
Frame Edge and Path Point Highlighting*
Special Frame Shapes
Use Select, Direct Select and Position Tools for Frames
Use the Gap Tool*
Use Content Grabber Tool
Image Import Options
Modify Placed Images

Work with Page Elements
Add, Delete, Reorder Pages
Adjust Layouts
Create Multiple Page Sizes*
Add Page Numbers
Use the Pages Panel
Use Colour Labels for Page Thumbnails*
Apply a Master Page
Use the Layers Panel

Adding Tables
Create a Table
Modify a Table
Format a Table
Create Table and Cell Styles

Finalizing Documents
Check for Problems
Use Live PreFlight
Print a Document
Package Files
Prepare PDF for Web Distribution
Export PDF Fles for Printing

* CS5 only




Prerequisites & Certificates

Pre-Requisites

The prerequisites for this course are an introductory course to Windows or a solid working knowledge of Windows. A solid working knowledge of basic office software skills is required.

Certificates offered

Certificate of Completion




Cancellation Policy

ctc TrainCanada - We Never Cancel*:
We are unique in the corporate training field in that we do not cancel desktop applications courses due to low enrollment. When there are less than 3 students, ctc TrainCanada will personalize the class (students then receive more time with the instructor to address their individual needs allowing the student to complete the full course in less time) or connect the student remotely to a class at one of our other branches via TrainLive remote classroom instruction. *Microsoft Certified Courses and other technical courses require a minimum enrollment of three students. Business Skills courses require multiple students in order to run due to the interactive nature of the training. Selected Desktop Applications courses may require a minimum enrollment of two students to run. ctc TrainCanada® reserves the right to deliver Microsoft Certified and other technical courses via TrainLive remote classroom instruction in order to guarantee the course to run.

ctc TrainCanada Cancellation policy:
You may cancel or reschedule this registration in writing with no penalty with a minimum of 10 business days' notice prior to the first day of the course. Full payment is required if you cancel or reschedule this registration within 10 business days prior to the first day of the course. However, substitutions are welcome. If you do need to cancel or reschedule a publicly scheduled course within the 10 day non-cancellation period (not a client dedicated course), payment is to be made and a training voucher for a public course will be issued to you. This allows you to attend a future date for the same course at no charge (subject to availability).
No-shows will not be issued a training voucher.

Complimentary Service: We offer all our students coffee, tea, juice or pop, muffins or pastries in the morning and cookies baked in our own oven each afternoon.


Map & Reviews

Halifax Office
2000 Barrington Street
Suite 201-Cogswell Tower
Halifax, Nova Scotia
Canada B3J 3K1




Reviews

We have not received any reviews specific to this course as yet, however here are some reviews of the training vendor.
Registration is fast, and will take approximately 3 minutes. There is no membership fee.
» You are also welcome to Make an Offer

Not enough budget for this course? Maybe you just love to make deals!
In either case, our Make an Offer feature gives you the opportunity to name
your own price. Try it out, you might get lucky, just keep in mind it can
take up to 1 full business day to get a response!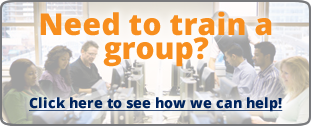 This course is also scheduled on the following dates:
Not interested in this Course?
Tell us why:
This page has been viewed 38 times.