SQL Level 1 (Basics of Querying)
» back to Search Results
This Course is designed for participants who have a basic knowledge of networking and database design.
Course Start Date:

Apr. 18

Location: Ottawa

(Map)

Time:

9:00 am - 4:00 pm

(Note on end times)

Please Note: End Times are approximate and depend
on the number or students and pace of the class.
It is important to allow for the class to run a little bit longer,
or finish a little sooner, than expected.

Duration:

1 Day
Delivery Method(s):

Instructor Led

Mentored training is a revolutionary training method
that provides you with the quality training that
you have come to expect, and combines it with
flexible learning and a self paced environment.
For more information click here.

Seats Available:

YES

Category:

SQL training classes
Course Outline

This Course is designed for participants who have a basic knowledge of networking and database design.

LEARNING OBJECTIVES
On completion of course, participants will be familiar with SQL, move around and query a database to answer various questions.

COURSE OUTLINE
INTRODUCTION TO DATABASES AND SQL
€Database concepts
Understanding SQL terminology

INTRODUCTION TO THE SELECT STATEMENT
An overview of the SELECT statement
Syntax rules you€(TM)ll want to know

CALCULATING DATA
Aggregate functions
Column aliases
Performing calculations
Date functions

SELECTING SPECIFIC ROWS
The WHERE clause
The ORDER BY clause

WORKING WITH OTHER OPERATORS
Searching for text
Logical operators
NULLs

GROUPING DATA
The GROUP BY clause
The HAVING clause
Comparing the WHERE and HAVING clauses

MULTI-TABLE QUERIES
Joins
Joining tables
Outer joins

QUERYING A DATABASE USING ACCESS
Connecting to a database
Querying a database
Generating a report of the data


Prerequisites & Certificates

Pre-Requisites

Participants should have basic knowledge of Windows, Access and Networking.

Certificates offered

Certificate of completion




Cancellation Policy

Compuease Cancellation Policy
We at Compuease work hard to arrange our schedules around your needs. Last minute cancellations put additional strain on our schedules and therefore we have the following Cancellation Policy for our Public Classes. You may cancel or reschedule a registration at any time up to 10 business days before the class without penalty. Canceling or rescheduling a registration within 10 business days requires full payment of the course fee. You are welcome to transfer your seat in a class to another individual at any time before the class.




Map & Reviews

CompuEase Training Classroom
130 Albert Street
Suite 801
Ottawa, ON
Canada K1P 5G4



Registration is fast, and will take approximately 3 minutes. There is no membership fee.
» You are also welcome to Make an Offer

Not enough budget for this course? Maybe you just love to make deals!
In either case, our Make an Offer feature gives you the opportunity to name
your own price. Try it out, you might get lucky, just keep in mind it can
take up to 1 full business day to get a response!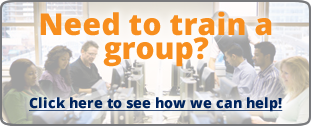 This course is also scheduled on the following dates:
Not interested in this Course?
Tell us why:
This page has been viewed 20 times.